One of the most popular colours that we see in kitchen is white. White is not only a bright, crisp and clean colour, but it is also elegant and timelessly chic. Best of all, white works no matter your preferred style of kitchen design. Modern or traditional.
The thing about white is that whilst you know that it works in kitchens, there is the concern about how to actually best use it? The last thing that you are going to want to happen is to have lots of white in your kitchen, only to feel that it looks a little cold and clinical.
So, with this in mind and to make sure that you have a kitchen that you love, we have put together our guide on how to use white in your kitchen.
Warm up white with brass
Be monochrome
Monochrome is a great choice for a kitchen, particularly if you love the idea of white, but you do want to bring some contrast it. If you want to make a monochrome space, then you can choose to add in black furniture and accessories to your kitchen as this will make for a subtle effect that still has a good impact.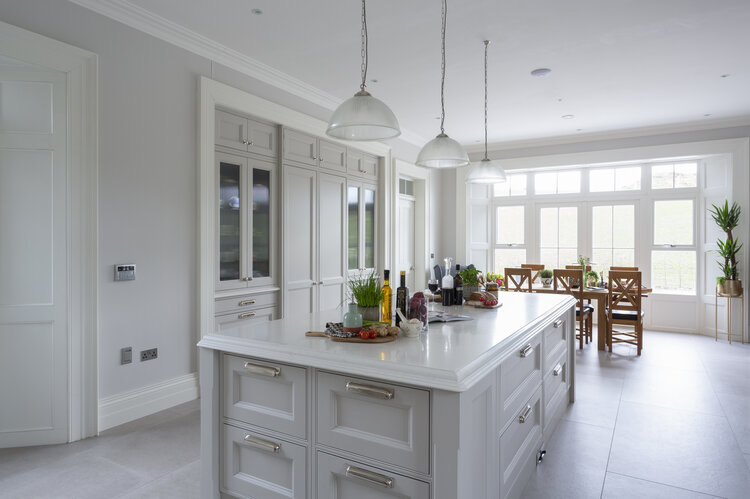 Combine with wood
Another great way to warm up a white kitchen, is by making sure that there is plenty of wooden touches throughout the space. Wood is also a great choice for kitchen as it is easier to keep looking clean and tidy than some other choices and is definitely a material that is built to last.
Don't go for stark white
Some people avoid using white in interior design because they worry that it will be too bold a shade. For those people a much better choice may be off-white rather than stark white. Off-white has a much gentler and subtle finishing touch than your more usual white, but it still looks crisp and clean.
Add an accent
If you really are concerned that an all-white kitchen may be too much for your space. Then why not think about adding an accent colour to it? Accent colours are great because they really bring the entire room to life, but they don't take over. Yellow is a great addition to white as it will create a bold contrast, as is red. However, most colours will look great and will add something to your kitchen.
We love white as a shade for your kitchen and we think that more and more people should feel comfortable and confident using it too. So, if you are trying to decide your next colour choice for your kitchen, why not consider white?