In modern interior design one common theme that seems to be a part of homes is "open plan living". The idea of open plan rooms is that they are spacious and airy and they limit the amount of walls and sectioning the room has.
One part of your home that can really work well with an open plan style is the kitchen. Despite it being a great look; that doesn't necessarily mean that it is easy to do. So, to help you to create an open plan space, we have put together our guide to open plan kitchens made easy.
Whilst the idea of open plan living is toc create one fluid space, that doesn't mean that you can't separate certain areas of the room to create zones. You just need to be clever about how you do this. You don't want to have lots of walls around you, but you can use your cabinets or an island if you have enough space, to mark out particular areas within your kitchen and ensure that you have some order.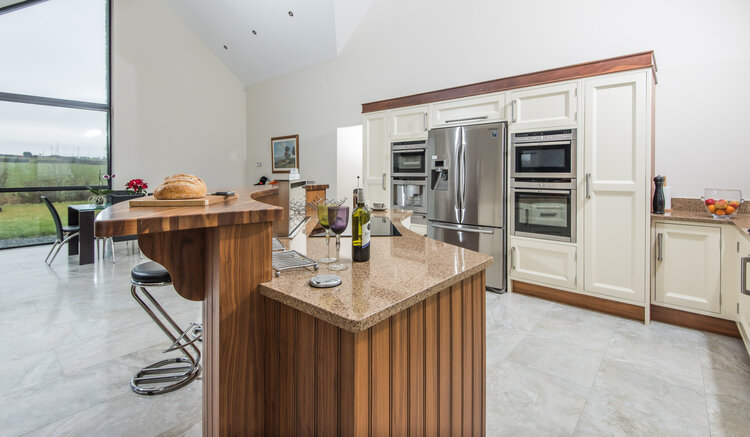 Use lighting
Lighting is one thing that you need to pay attention to in an open plan kitchen. If you don't then you could end up with some parts which are darker than others; and this defeats the object of what you are trying to achieve. Use natural light as much as you can and, if there are spots that are not getting as much natural lighting as others then think about clever lighting options such as under cabinet strips and ceiling lighting.
Pick the right flooring
It is really important that you choose the right flooring in a kitchen, particularly one that is open plan. The right flooring is going to need to be easy to clean and durable. Usually because you will see plenty of traffic and also have a larger amount of floor space to clean too.
If you are worried about having too much of one type of flooring in the space, then it is a good idea to try and break up the space as much as you can by using rugs to add a different texture.
Choose similar colours and furniture
If you are lucky enough to have a large open plan kitchen space, then you may worry that the entire room is going to feel disjointed if it is in this layout. This can happen, but, there are things that you can do to help this. Try to stick to similar colour schemes and similar styles of accessories and furniture. This will bring the entire room together and ensure that it appears cohesive rather than like it is all separate.
As you can see, there are plenty of ways that you can make sure that your open plan kitchen looks just the way that you want it to and you can create a kitchen that you want to spend as much time in as possible.